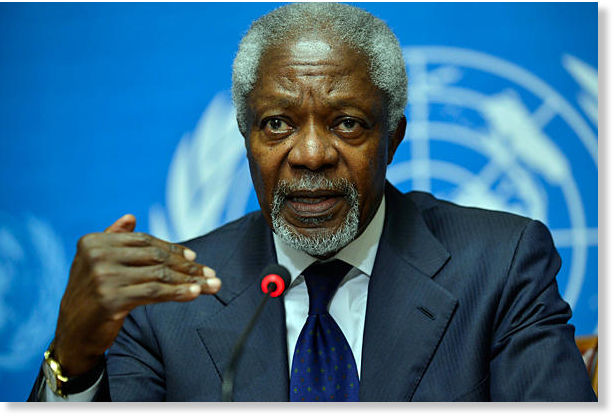 hannytalker
Kofi Annan, whose initiative to forge peace in war-ravaged Syria failed to take hold, has resigned as the U.N. and Arab League joint special envoy to the country.
U.N. Secretary-General Ban Ki-moon announced the move Thursday, saying that Annan told him and Arab League Secretary-General Nabil El Araby that he didn't want to renew his mandate when it expires on August 31.
Ban praised Annan's "determined and courageous efforts" to end the nearly 17-month-long Syrian crisis, a conflict that started when the regime brutally cracked down on peaceful protesters in March 2011 and morphed into a nationwide uprising.
But Ban cited two factors undermining Annan: The government and the opposition have been determined "to rely on ever-increasing violence," and there have been "persistent divisions within the (U.N.) Security Council."
Among the five permanent members of the council, Russia and China have persistently disagreed with tough action against the Assad regime favored by the United States, Britain and France.
As a result, Annan's departure reflects the utter failure of world diplomacy and Syrian leaders to end the fighting, in which opposition groups say more than 20,000 people have died, thousands have been imprisoned by the regime and tens of thousands have been displaced from their homes.
The conflict is now internationally regarded as a civil war between an armed resistance movement and President Bashar al-Assad's regime.
Ban announced Annan's move with "deep regret" and said he and El Araby are looking for a successor for what he described as a "crucial peacemaking effort."
The appointment of the former secretary-general in February was supported by world powers and the Syrian government.
After he took the post, he worked to formulate a six-point peace plan for Syria that included a cease-fire. The United Nations established the U.N. Supervision Mission in Syria to monitor the efforts to forge the plan.
Annan's plan called for establishing a cease-fire between al-Assad's government and the opposition, allowing humanitarian groups access to the population, releasing detainees and starting a political dialogue. It also called for government forces to withdraw from city centers.
Despite an initial and small drop in violence after his plan was announced, fighting raged nonstop. The terrain became so dangerous in Syria that UNSMIS monitors had to suspend their observation missions.